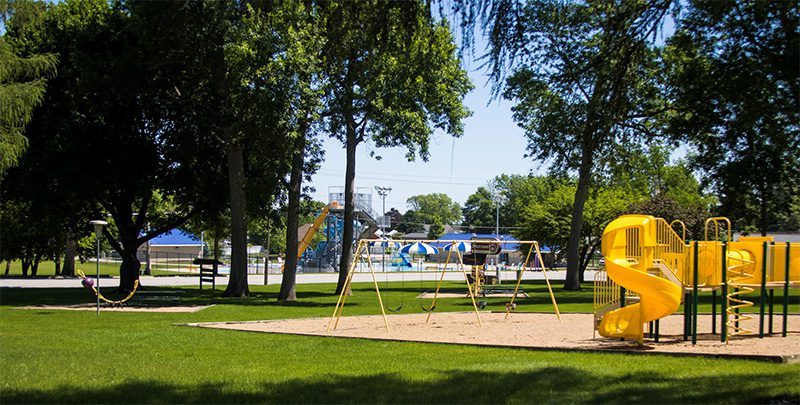 Liberty Park
605 12th Street
Swimming Pool, Tennis Courts, Playground Equipment, Shelter House and Bathroom Facilities
Orion Park
1300 G Avenue
Herbert Quick Schoolhouse, Shelter House, Playground Equipment and Bathroom Facilities
Elementary School Playground
930 9th Street
Grundy Family Aquatic Center
605 12th St.; Grundy Center, IA 50638
(319) 825-5200
Hours: Mon.-Sun: 1-8 pm
Season passes: Family $180 and Single $90
Admission: $5/person
Center Theatre
602 7th Street
(319) 824-6571
Website: www.grundycentertheatre.com
Community-owned cinema featuring two screens and new releases. Enjoy Dolby stereo and comfortable seating.
Town & Country Golf Club
Located at the South end of 12th Street.
(319) 824-3712
Website: Click Here
Pioneer Trail
This trail was once an active railroad bed that served as a vital link to the largely agricultural communities of Holland, Grundy Center, Morrison, and Reinbeck. Today the trail stretches for 12 miles from Reinbeck to Holland connecting these four towns. The Pioneer trail has a surface of crushed and compacted limestone. Outdoor recreation activities include hiking, running, bike riding, and cross country skiing.
Trail Heads: Kiwanis Park off N. 2nd Street; Shearn Park at Hwy 175 & County Road T47
Map Click Here
Central Iowa Snowmobilers Club
PO Box 1751, Marshalltown, IA 50158
Phone: (641) 485-0123 Kevin Weese, President
Website: Click Here
Trails are funded by your snowmobile registration & local club moneys. No tax money is used for maintenance of these trails. Trail map posted on website.
YMCA
1006 M Ave.
(319) 825-6210
Website: Click Here
Andrew Peters, Director
Hours:
M-F 5-8am, 3:15-8pm (Closes at 7pm Fridays)
Saturday 7-10am
Sunday 2-6pm
*Additional Summer hours M-F 11am-1pm
The Grundy Family YMCA offers a wide variety of opportunities including a fitness center featuring many different cardio & strength training pieces of equipment, two fitness studios dedicated to fitness & youth classes at the Upper Elementary, a wide array of adult & youth programs, Before & Afterschool Care during the school year, and Summer Day Camp for kids grades K-5 during the summer.
Crystal Bowl
1602 G Avenue
(319) 825-6314
Open August- April; offers several nightly bowling leagues